GBARC Virtual Meeting Room
https://meet.k9by.us/b/bre-h3z-dzd is the link to the GBARC virtual meeting room.
Club meetings will be held virtually meeting until further notice.
The virtual meeting room is also open Wednesday evenings from 7:45PM - 9PM for rag chew.
GBARC Meeting Minutes November 2014
Meeting Location:
Main Fire Station, 1111 Church St., Beloit, WI.
Vice President Dave Wendt, N9GQ, called the meeting to order at 7:02pm.  Attendance was 21.  Introductions were made.  The question of the evening was Is Central Standard Time disruptive or helpful to Ham radio?,  Most thought that CST was helpful and Coordinated Universal Time is also valuable.    
The Minutes of the October meeting were read and corrected by Secretary Carl, W9BJ.  The Treasurers report was given by Treasurer, Al, KC9QQO.  Both reports were accepted.
Announcements:  Vice President, Dave, N9GQ, mentioned that President, Brett, K9BY, is traveling on business and will return for our December meeting,
Old Business:  Conrad, W9DL, related how he led a group of hams to help an area ham take down his antennas and tower, in preparation for moving to Texas.  Later, the ham decided to reinstall some sections of his tower by himself.  He had a serious accident with multiple broken ribs, broken vertebrae, etc.  He is recovering.  We should all try to use good "tower safety" when working on our antennas.  We should ask for help when we have a big antenna project.  Volunteers are generally available. 
Conrad also showed a QSL card from 40- years ago; he described a recent conversation with the same ham. 
New Business: Dave, N9GQ and Conrad mentioned the Ham Breakfast this Saturday, the 8th, at the Flying J, Denny's Restrauran,t in South Beloit at 8:00am; usually about a dozen area hams are present for the second Saturday of the month get-together.
Chuck, WD9BB, discussed how to add a second clock display to a Windows PC.  He had the display show CST and Coordinated Universal Time, UTC.  This is a great asset for logging in ham radio when you are working DX.  Chuck also discussed the eight-wire system of an antenna rotator like the Ham M series.   The contacts at the rotator are numbered in two rows of four, 1-4, 5-8; with the 1-4 being on the outer row.  A 50-50 raffle was held.  $21 went to Al, KC9QQO, and $21 to the BARC Kitty. 
Program: Dave, N9GQ discussed and demonstrated his homebrew Magnetic Loop antenna.  He constructed the mag loop using an aluminum 24 inch bicycle rim, a variable capacitor from a WW2 command receiver and other parts from the scrap box.  It is valuable for use on the 20-17-15-12 and 10 meter bands.  It is low noise, directional, no radials and very narrow band, 20-40 kHz.   Dave stated that the latest issue of QRP Quarterly had two related articles.   This antenna was inspired by AB5ZJ, Tom, of Dallas, Texas.  He puts a good 20 meter signal into the Senile Network ran by Conrad, W9DL, Monday through Friday.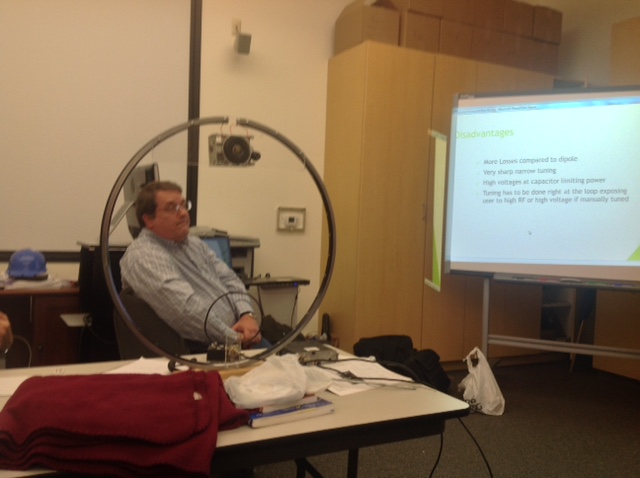 Final:  Dave, N9GQ, announced that our next meeting will be Monday, December 1st.  The meeting was adjourned at 8:35pm.