GBARC Virtual Meeting Room
https://meet.k9by.us/b/bre-h3z-dzd
The virtual meeting room is also open for the club meetings on the first Monday

of the month and every Wednesday evening from 7:45PM - 9PM for rag chew.
Greater Beloit Amateur Radio Club
Next Meeting: Monday, December 4, 2023 6:30pm It will be a Virtual video conference , see the link below, use your call sign or name.
https://meet.k9by.us/b/bre-h3z-dzd
The Monthly Ham's Breakfast is back!    Second Saturday of the month.  At Denny's Restaurant, I-90 at South Beloit. (Flying J Truck Stop) All area hams are welcome. Say hello to Conrad Herold-W9DL. Bring another ham friend along.
License Exams:
Scott Fry (N9FRY)
is an ARRL VEC examiner. Check his data at QRZ.com for details.
2023 Board of Directors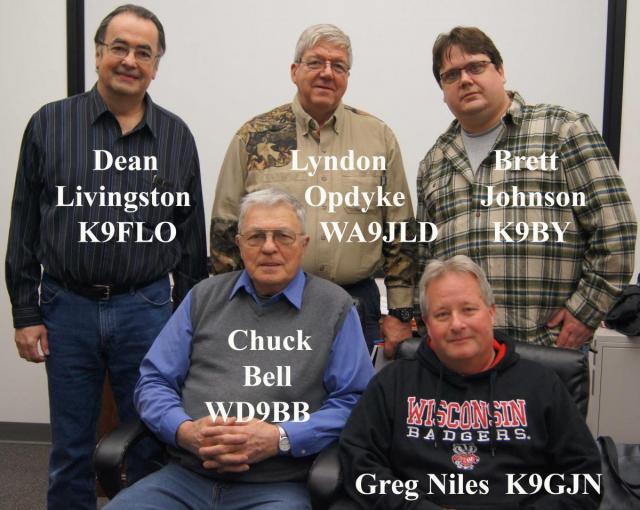 2023/2024 Board members are: Brett-K9BY, Lyndon-WA9JLD and Chuck-WD9BB
2022/2023 Board members are: Greg-K9GJN and Dean-K9FLO.
We strive to:
encourage interest in radio communications
improve proficiency in the art of amateur radio
aid in the education of interested persons the view of becoming licensed amateurs
improve relations between amateur radio operators and the general public.


Virtual Presence: 4, In-person: 9

Brett K9BY – President

 Lyndon WA9JLD – Vice President

Dean K9FLO – Secretary

Greg K9GJN – Treasure

Chuck WD9BB – Officer

Secretary Report:

Dean-K9FLO read the minutes from our April 3, 2023, meeting.      Recommended for Approval by Chuck-wd9bb, also commended Dean-k9flo on the Secretary's report quality, and was seconded byDennis-kd9qgh.          

Treasurer Report:  Greg-k9gjn reviewed the status of the Club funds and additional Hamfest funds from the sale of equipment donated by Dick Hamlett-wd9acy's son in law.     Received a bill for the renewal of our Wisconsin state license, will be paid this month.         We have club insurance due May 31,2023, will work with Dean-k9flo to get that renewed.       A motion to approve the treasurer report by Chuck-wd9bb and seconded Brett-k9by.

Old Business:         

Brett-k9by Anybody going to Hamvention?   Lyndon-wa9jld will be going.     Chuck-wd9bb we will be having the Foxhunt in two weeks (May 13th) after Breakfast at Denny's.    Brett-k9by will bring gift cards and we discussed some of the low costs HT's.     Greg-k9gjn made a motion to buy three $10 gift cards for winners, Dennis-kd9qgh seconded and all members present approved the motion.

New Business  

Brett-k9by the ARRL is offering a discount if you renew through your local club.    The local club would receive $5 per member and $15 for new members, this is for doing their ARRL paperwork.     The ARRL is doing this on-line survey, and one of the questions is increasing the annual dues.     Please do the ARRL survey.      We have been asked to help with doing Pie-ride again, Danell-n9sol on behalf of RACES will be providing about eight people participating.     Brett-k9by reviewed last year's involvement and the use of commercial radios.      Brett-k9by discuss the issues with Danell-n9sol and we would be there to provide any additional assistance.     There was a discussion on what we could do differently, and Brett-k9by will get back to Denell-n9sol will have RACES be in-control.        Field-Day 2023:   Antennas 50' tower hex beam, 6m beam, triplexer for 10-15-20, 2-30' towers one on the south end and one north side of fire building for the two OCF.     We discussed putting up a 10m vertical and decided not to.       Discussed the use of our (club) 20kw genset, or 2-smaller gensets with paralleling capabilities, which would require multiple shutdowns for refueling and also the use of battery/solar sources.      Bob-w9ewz has offered and we accepted a $100 to the Field Day fuel fund: Thank-you Bob-w9ewz!!   We discussed the equipment needs: power supplies, computers, stations.    Dennis-kd9qgh will check into the feasibility of alternative power sources.   Brett-k9by we should bring some ac power meters to check our equipment power usage and ammeters.     Kurt-ke9n also offered the use of his Genset.    We will stay in class 3A.    We will finalize the Field Day setup at next month's meeting.       We have new and changes to the sections for Canada: NB-New Brunswick, no maritime section, GH-Golden Horseshoe, and TER.     Brett-k9by will e-mail the info.     Do: Logging training.     Bonus points: Emergency power (100 x stations), Media Publicity (100), Satellite QSO (100), Public location-forfeit (Discuss alternate location but noise becomes an issue), Public information table, points for section mgr, Message handing, alternative power, GOTA: solar, single radio, 5-contacts (100), w1aw bulletin (100), Educational bonus (100), location entrance signage, Site Visitation by elected gov. official, site visit by local agency Red cross, salvation army.     Two safety officials       Food: Greg-k9gjn maybe pick-up Subs, pizza, or grilling.     New rules for 2023: contacts must be confirmed in both directions (ft-8 & FT-4) and fully automated is prohibited.    Power output Max of 500 Watts PEP for A,B,C and 100w pep for D,E,F.    GOTA station contacts, regardless of mode, are all worth 5 points each.      Ed-kb9nbp inquired about having club badge from our club logo, Dean-k9flo will check on.     Chuck-wd9bb inquiring on how to heat his garage, many ideas but.

 

  Meeting to adjourned at 8:15: pm.

Motion to adjourn by Dennis-kd9qgh seconded by Greg-k9gjn.

Program:  none

Next Meeting will be June 5, 2022. 

Secretary: Dean-K9FLO