Greater Beloit Amateur Radio Club
Meeting: Monday, April 6, 2020 7:00pm: will be a video conference meeting due to covid-19.   Go to the link below, use your call sign or name.
https://meet.k9by.us/b/bre-h3z-dzd
Beloit Fire Station #1
1111 Church Street, Beloit, Wisconsin
(Park and enter by west entrance)
The Monthly
Ham's Breakfast
is
Saturday, March 14, at 8:00 am
at Denny's Restaurant, I-90 at South Beloit. (Flying J Truck Stop) All area hams are welcome.
Say hello to Conrad Herold-W9DL
. Bring another ham friend along.
License Exams:
Scott Fry (N9FRY)
is an ARRL VEC examiner. Check his data at QRZ.com for details.
2019 Board of Directors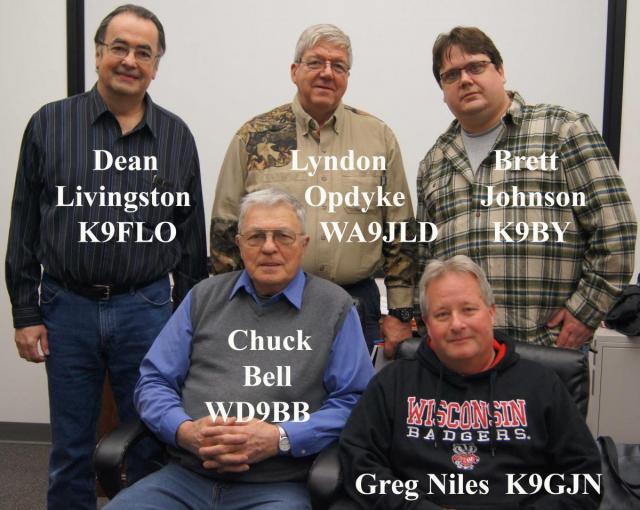 2018/2019 Board members are: Brett-K9BY, Lyndon-WA9JLD and Chuck-WD9BB
2017/2018 Board members are: Greg-K9GJN and Dean-K9FLO.
We strive to:
encourage interest in radio communications
improve proficiency in the art of amateur radio
aid in the education of interested persons the view of becoming licensed amateurs
improve relations between amateur radio operators and the general public.


 

Present: 18

Brett K9BY – President

Lyndon WA9JLD – Vice President

Dean K9FLO – Secretary

Greg K9GJN – Treasure

Chuck WD9BB – Officer

An introduction of everyone present was done.    We had three guest: Justin Davis and his son Isak, and Ted Gisske-k9imm (guest speaker).

Secretary Report:

Dean-K9FLO reviewed the minutes from the September 9, 2019 meeting,   Recommended for Approval by Chuck-wd9bb seconded by Dan-k9ibm approved as read.

Treasurer Report:

Greg-K9GJN gave the treasure report.     Motion to approve Treasurers report by Chuck-wd9bb and seconded by Lyndon-wa9jld.

Old Business:      Brett-k9by we are still looking for a new club call sign.     Dave-ak9f gave a report on the results of the Scout Jamboree  GBARC Ham station presentation.    Dave-ak9f and Chuck-wd9bb provided live station demonstrations, hands on operations for all the interested Scouts and there were many interested Scouts.     Dave-aa9f talked about the number of contacts, conditions and antenna.    Chuck-wd9bb suggested we obtain Ham Radio hand-outs or packets to have available for our visitors at the events we are involved in.     Brett-k9by will check into the options we have and Dean-k9flo will check with ARRL.   Brett-k9by we are planning a Fox-hunt this Saturday after Breakfast at Denny's, plan on about 9:30am.     Dean gave an overview of the HRO Super-fest which he attended on Friday (very good).   

New Business

None

  Announcements:  

None

 

Motion to adjourn: Carl-w9bj and seconded by: Chuck-wd9bb.

Program

Ted-k9imm gave a presentation on the state of digital and FT8 communications.   Thanks Ted very informative!

Next Meeting will be November 4, 2019! 

Secretary: Dean-K9FLO